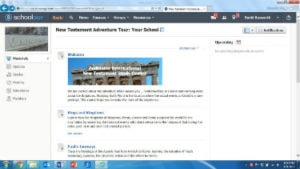 Prepare yourself for following in the footsteps of the apostles through our unique online course. Designed by university professors, this curriculum will take you deep into the Scriptures, yet with understanding and practicality. This curriculum is self-paced by each individual participant.
Perfect for Christian colleges and universities, high school senior trips and church tours. Enrollment is free for all tour participants.
Consider these exciting and informative modules:
Kings and Kingdoms
Explore how the kingdoms of Babylonia, Persia, Greece and Rome prepared the world for the incarnation and the gospel.
Paul's Journeys
Trace the footsteps of the Apostle Paul from Jerusalem to Rome, learning the places he visited and the letters he wrote.
Life and Times in the Mediterranean
Learn about daily life in the first century Mediterranean context and how cultural perspectives of early Christians influenced the writing of the Scriptures.
Principles of Mission
Examine the methodology and strategies of the apostles, applying them to the modern task of world evangelism.
Travel to Greece
Find out all the details you need for your own trip to Greece, including what to pack, cultural tips and basic phrases in modern Greek.
Launching fall 2017!  Contact us today for a preview.